22_6_RIDGE_SSP_R1_res
22_6_RIDGE_SSP_R1_points
More, from a press release issued by MotoAmerica:
Rodio, Mazziotto Take First Wins Of 2022 At Ridge On Day One
Herrin And Alexander Join Rodio Racing Teammates In Scoring Wins On Saturday In Pacific Northwest
SHELTON, WA (June 25, 2022) – Two riders who have tasted success in previous years in the MotoAmerica Series earned their first victories of the 2022 season on a hot and sunny Saturday at Ridge Motorsports Park with teammates Gus Rodio and Anthony Mazziotto winning the SportbikeTrackGear.com Junior Cup and Twins Cup races, respectively.
Rodio's victory in the SportbikeTrackGear.com Junior Cup race was his first of the year and the second of his career and the Rodio Racing/Warhorse HSBK Racing rider was joined in victory later in the day when Mazziotto rode the team's Aprilia RS 660 to victory in the red flag shortened Twins Cup race. Three of the four support class races on Saturday featured red flag stoppages.
Yuasa Stock 1000 – Alexander Closes In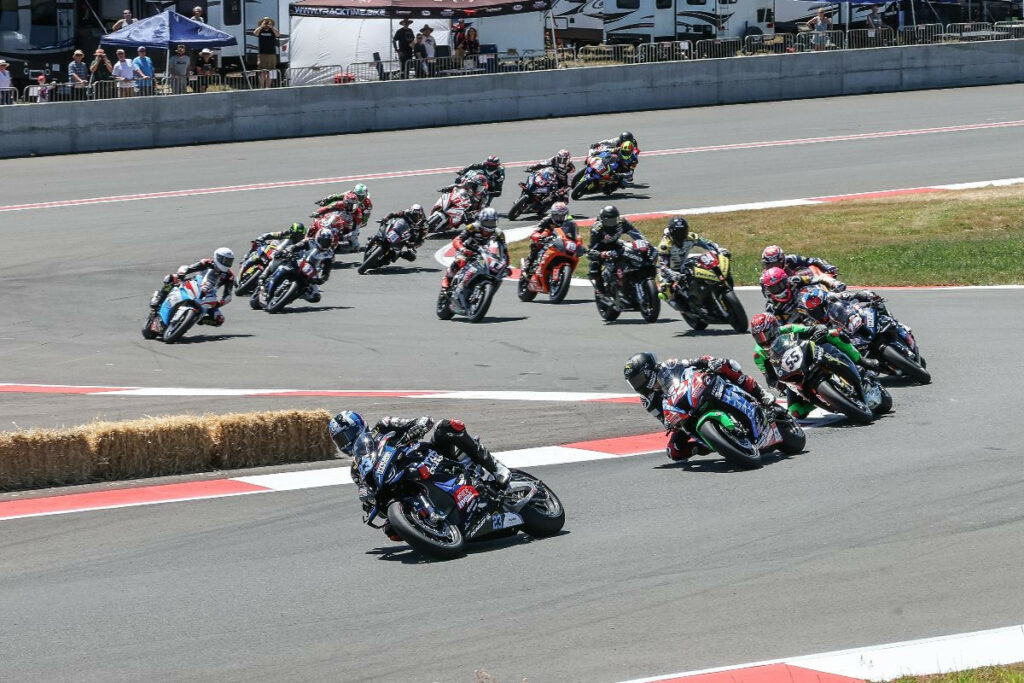 In Yuasa Stock 1000 race one, the 12-lap race was reduced to 10 laps due to a red flag on the initial start. Tytlers Cycle/RideHVMC Racing BMW rider Corey Alexander started from the pole and led from start to finish to record his third race win in a row at Ridge Motorsports Park after getting the double-win last year. Oregon-based rider Andy DiBrino showed well at his home track. Aboard his Precision Iron Works/DiBrino Racing Kawasaki, DiBrino started second and maintained his runner-up position all the way to the checkers. Third place went to Disrupt Racing Suzuki rider Hayden Gillim.
"I grew up racing in the Northeast, so we have Loudon, which is in New Hampshire," Alexander said. "It's blind and a little sketchy, and it just takes some areas where you've got to be really comfortable with your bike and confident. So, it reminds me a little bit of that. The Supermoto tight section at the top of the hill is fun. I think being a little bit bigger maybe helps, too, here. You can kind of do some things with the bike to get over the curbs and use my height to my advantage, a little bit. We won both races here last year, but I was working ten times harder. The BMW is just working so well for me, and everybody is working really hard. My uncle and Steve Weir (from BMW), everybody who is part of the program. It's fun to be able to come out and push the envelope every weekend without having issues with the electronics and that kind of stuff. The bike actually works. It's fun to ride. Hayden (Gillim) is obviously kind of the guy in the championship that I've got to keep my eyes on. I'm trying to push the envelope, that's what it's about. If I take a break, he's going to be right there. So, that's kind of my mindset. Really happy to be up here, and congrats to these guys."
Supersport – Four For Herrin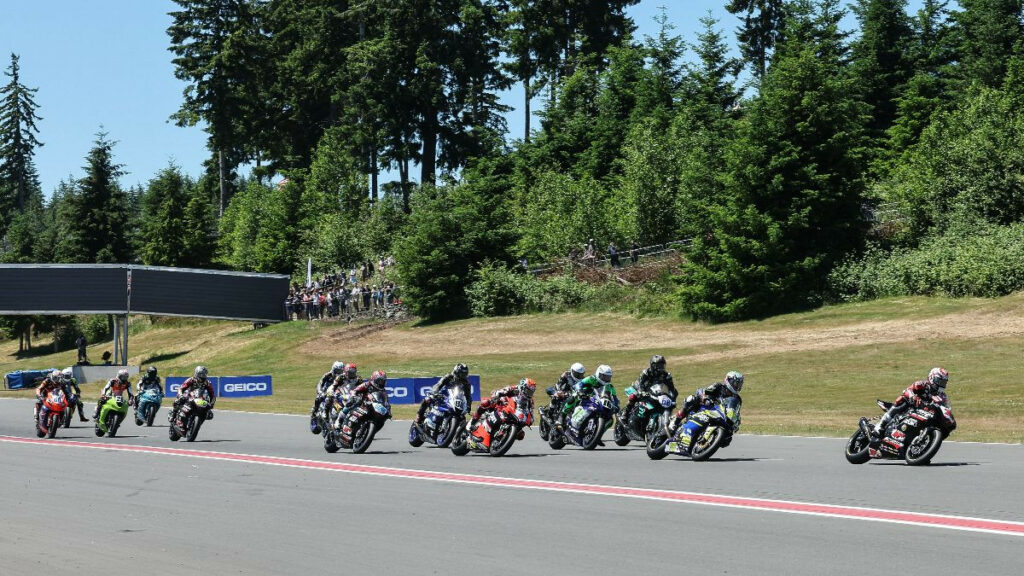 Supersport points leader Josh Herrin notched his fourth victory of the season with his win in race one at Ridge Motorsports Park. Herrin stalked Tyler Scott in the beginning of the race, and then on lap three, he overtook Scott and maintained his lead all the way to the finish line. Scott, meanwhile, faded as the laps wound down, and polesitter Rocco Landers took over second position aboard his Landers Racing Yamaha on lap 11 of the 15-lap event, ultimately finishing as runner-up in the race, a little over two and a half seconds behind Herrin. Also moving up into podium position on lap 11 was Vision Wheel M4 ECSTAR Suzuki's Sam Lochoff, the South African finishing third.
"At the beginning, I didn't get a great start, so my game plan kind of changed," Herrin said. "I was going to sit there for a little bit and see what the leader's pace was. I thought maybe he was trying to save his tire or something, because we were in the 46's when he qualified at 42. So, I was a little confused. I decided to make a move on him, and I figured, we're doing 46's right now. If I can put down some 44's and see if he hangs or see if I can get a gap. Somehow, I was able to get a gap doing 44's. So, I decided to obviously stay there and not do anything crazy. It worked out. Super happy with how the day went. You can't ask for a better race than that. I'm happy. Happy for my team. Just looking forward to tomorrow."
SportbikeTrackGear.com Junior Cup – Rodio's First Of The Year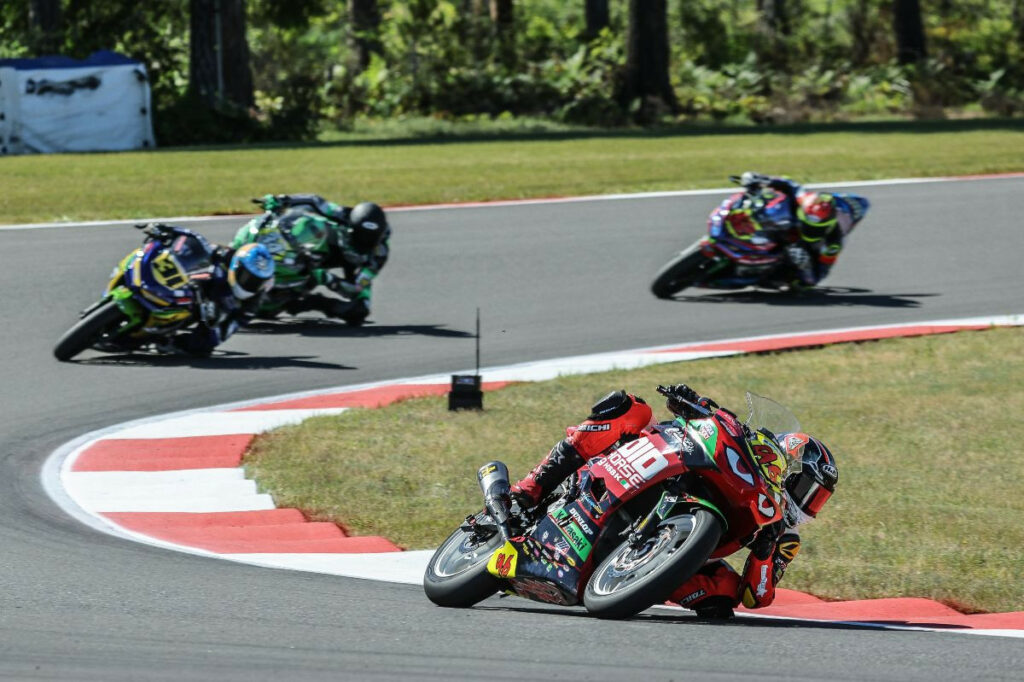 Rodio Racing/HSBK Racing's Gus Rodio started out the season competing in both Twins Cup and SportbikeTrackGear.com Junior Cup. But, after round two at Road Atlanta, Rodio and his team decided that he would focus all of his energies completely on STG Junior Cup and withdraw from Twins Cup.
The strategy has paid dividends for Rodio in Junior Cup because he podiumed in Virginia, finished second in race one at Road America, and in race one at Ridge, he got the win. The New Jerseyan built a big lead aboard his Kawasaki in the red-flagged-and-restarted 10-lap race, but SportbikeTrackGear.com Kawasaki rider Joseph LiMandri Jr. closed the gap considerably and finished in second, just ,204 of a second behind Rodio. Third place went to Kayla Yaakov, who turned 15 years old on Friday. It was the fourth podium result of the season and third in a row for the Altus Motorsports Kawasaki rider.
"I was looking back a little bit throughout the race and I saw the pit board said 2.8 or 1.8, or something," Rodio said. "So, I was like, 'All right, I have a healthy lead.' I was just trying to maintain that. Even at my maintaining pace with old tires from qualifying, I was losing the front everywhere. The grip was pretty bad. So, we're going to fix that stuff for tomorrow and try and last the whole 12 laps."
Twins Cup – Mazziotto!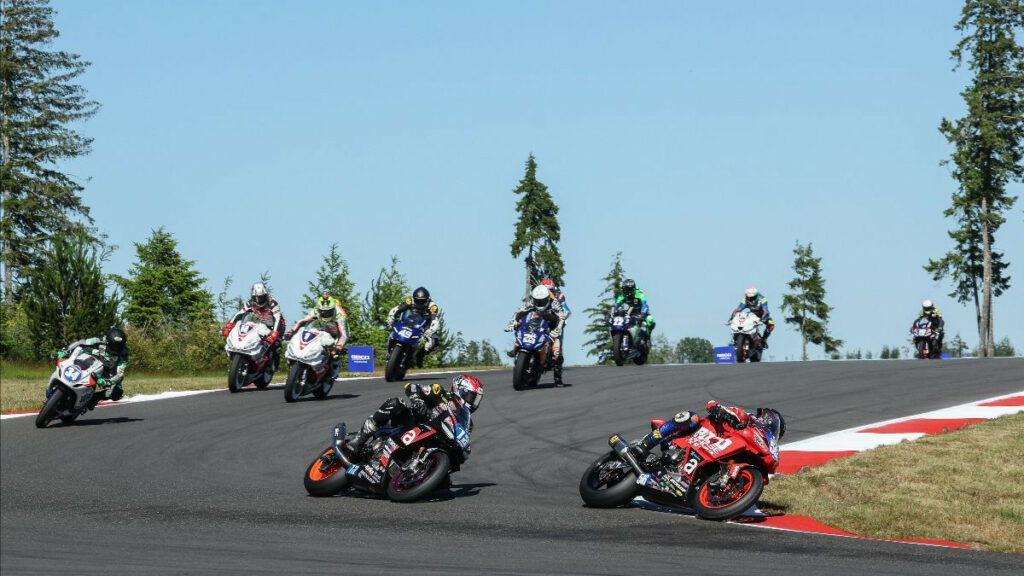 Rodio Racing/HSBK Racing followed up their win in SportbikeTrackGear.com Junior Cup race one with Gus Rodio's teammate Anthony Mazziotto winning Twins Cup race one. Mazziotto started from the pole aboard his Aprilia and was never headed in the red-flagged-and-restarted seven-lap race. Second place went to defending Twins Cup champion Kaleb De Keyrel aboard his Veloce Racing Aprilia, while Cycle Tech Yamaha rider Hayden Schultz rounded out the podium in third.
"The guys behind me were definitely pushing trying to catch up," Mazziotto said. "Then, I made a mistake coming into turn nine or ten, after you come up over the hill and that kink and then come into that really slow left-hander. I just couldn't grab any downshifts. I was stuck in sixth gear, so I rolled around the corner in sixth gear and then I looked over my left and I see Kaleb (De Keyrel) there. So, I really just had to dig deep after that. I was just ready for a battle. Then when the red flag popped out, I kind of saw something up at the top of the corkscrew, off way in the distance. Then I kept looking as I was coming down the corkscrew, and I didn't see any more red lights, so I came around the lap just to make sure, so I didn't pull in. That would have been pretty bad. I saw the red lights after I came out of the right onto the straightaway, so I put my hand up and let everybody behind me know. It was a good race. We've been working really hard at this all year. My crew has been fighting to put a motorcycle underneath me that we can do this on. I think finally now we're heading in the right direction with everything. I think, now, we're finally going to be around, and we're here to stay for a little while."
Mini Cup By Motul – Fast Kids In Washington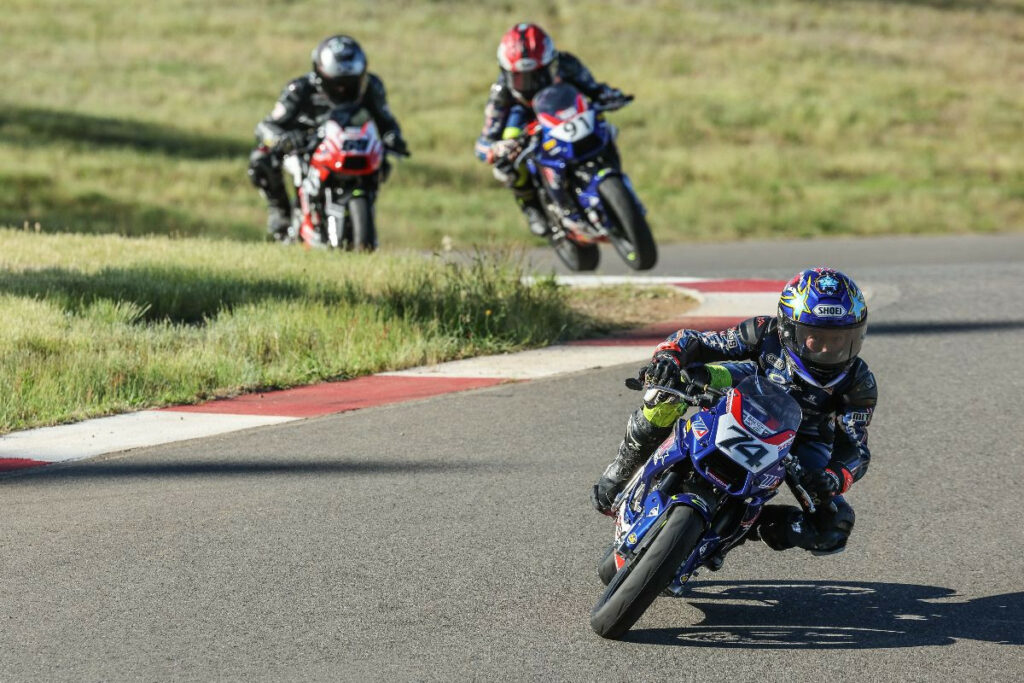 The Mini Cup by Motul Championship was back in action at Ridge Motorsports Park, and in the 110cc class, Nathan Gouker got the race one win over runner-up Anthony Lupo Jr., with Mac MacClugage completing the podium in third. Gouker also got the victory in 160cc race one, and again, Lupo Jr. crossed the finish line as runner-up to Gouker, while Ryder Davis was third. In 190cc race one, Kensei Matsudaira won over Mahdi Salem in second and Kylie Botkin in third.
In 110cc race two, Lupo Jr. recorded his third podium result of the day, and it was a win for the rider from Carlsbad, California, over Gouker in second, who hails from North Carolina. As he did in 110cc race one, MacClugage finished third in 110cc race two. 160cc race two went to Gouker for his third win and fourth podium of the day. MacClugage was second and Joshua Raymond completed the 160cc podium in third.
The Mini Cup event wrapped up at Ridge with Matsudaira doing the double with the win in 190cc race two. Jesse James Shedden was second and Joshua Raymond finished third.
More, from a press release issued by Suzuki Motor USA, LLC:
LOCHOFF SHINES FOR VISION WHEEL M4 ECSTAR SUZUKI IN WASHINGTON
New Generation GSX-R750 Continues Racking Up Supersport Podiums
BREA, Calif., June 26, 2022 — Suzuki Motor USA and Team Hammer added to their extensive trophy collection with another podium performance as the 2022 MotoAmerica AMA/FIM North American Road Racing campaign resumed at Ridge Motorsports Park in Shelton, Washington, on Saturday.
Vision Wheel M4 ECSTAR Suzuki teammates Samuel Lochoff and Tyler Scott were both in podium contention throughout a thrilling MotoAmerica Supersport contest.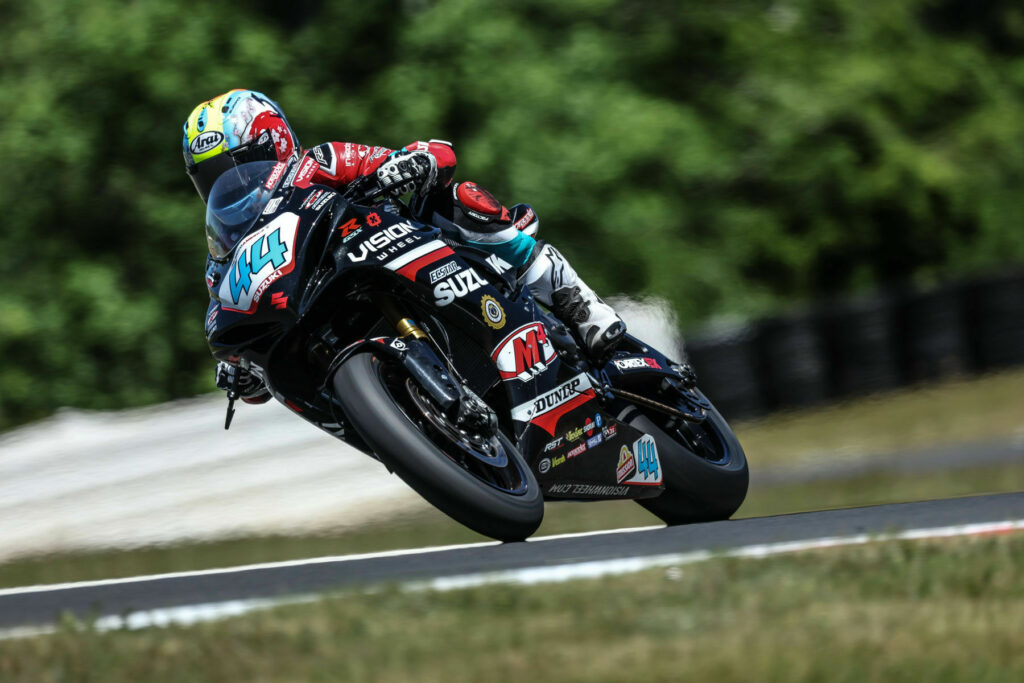 Scott was in the spotlight early; the 16-year-old stormed to the holeshot and held firm aboard his new-generation Suzuki GSX-R750 in second position for over half the contest. Over the second half of the race, he was joined by Lochoff and two other adversaries as a four-rider shootout took shape for the final two steps on the podium.
Despite still suffering from a broken right ankle, Lochoff managed to continue his forward push, fighting up to third despite a near fall in the race's early stages.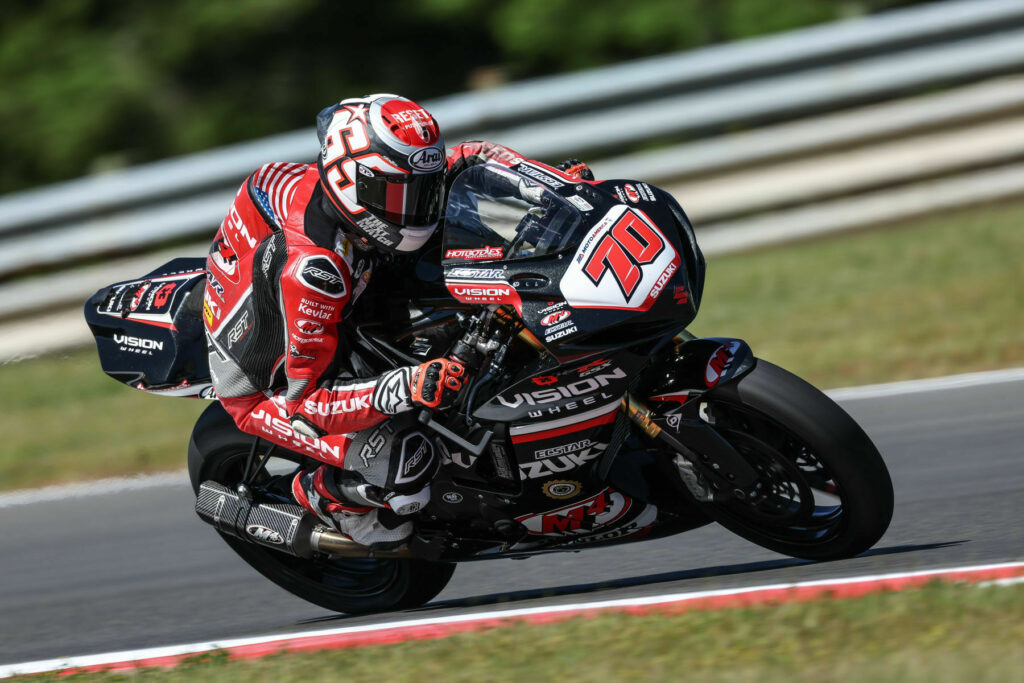 With Scott close behind in fifth, Lochoff was overtaken for third on the race's final lap. Undeterred, the South African executed a timely counterattack to reclaim a spot on the podium at the last possible moment.
Lochoff said, "We had a little off in qualifying and had a pretty bad impact on my ankle. It's not going to heal anytime soon if I keep riding, but I love this. This has been a struggle, not getting the results we know we're capable of. But now we're back on the podium, it feels like a win, and the team definitely worked for it. I'm really happy to be making progress. I really want to thank my crew who worked late into the night preparing my bike."
Scott led the race early and fought for the podium, but lost pace as his tires faded.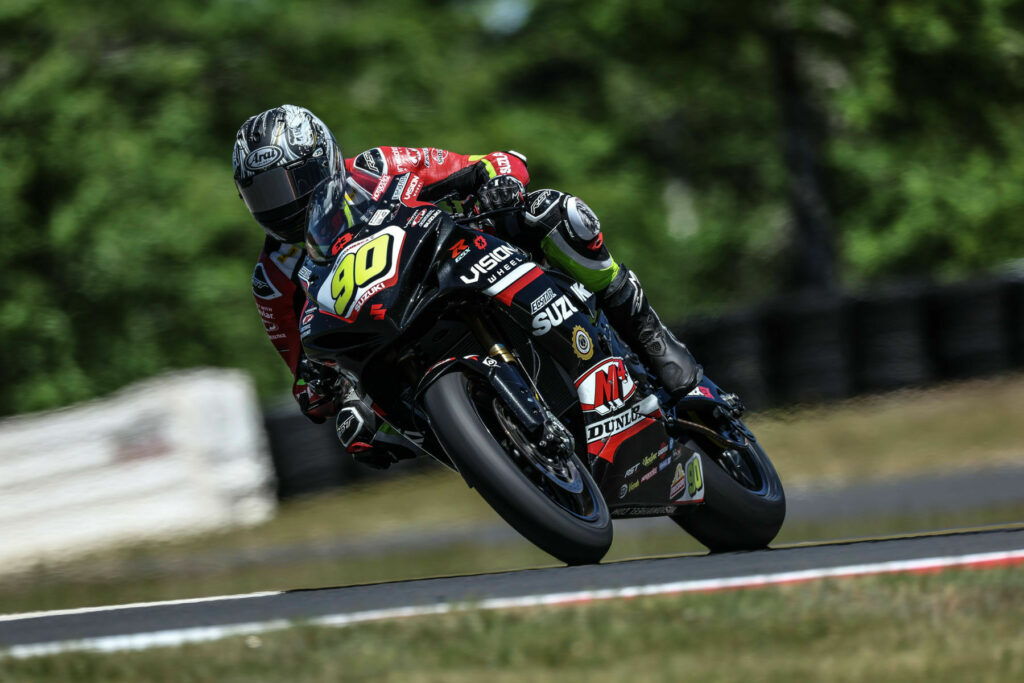 Vision Wheel M4 ECSTAR Suzuki's Liam Grant added to Lochoff's third and Scott's fifth by finishing ninth as the young racer continues to improve. Furthermore, Suzuki's GSX-R750s accounted for a full half of the race's top ten, adding additional momentum to this landmark motorcycle's return to national competition.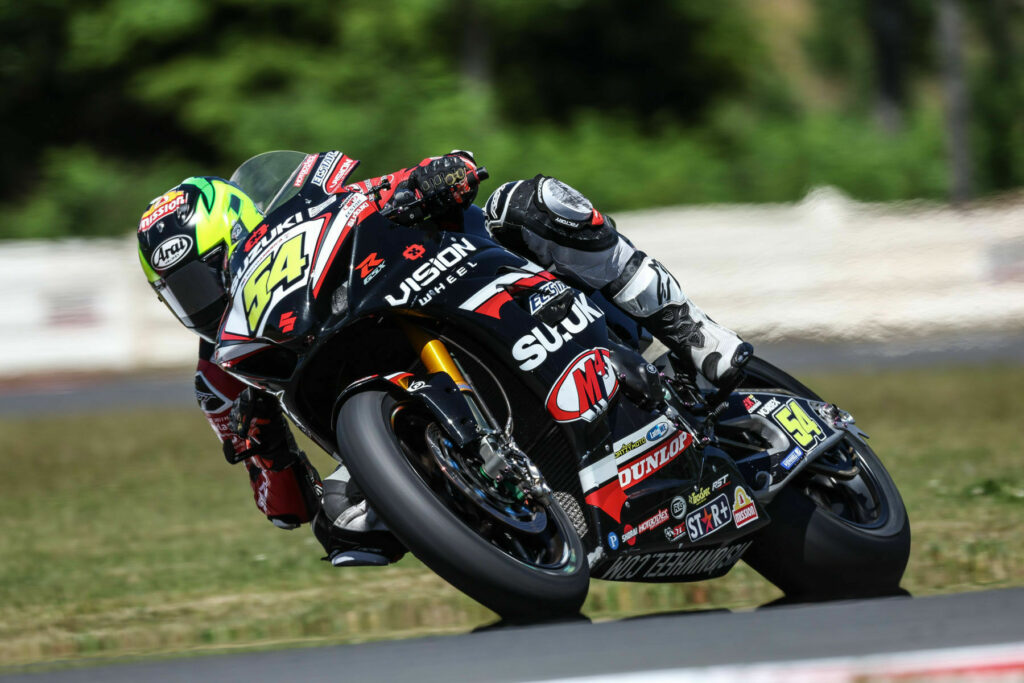 Meanwhile, to call the day eventful for the Vision Wheel M4 ECSTAR Suzuki Superbike duo of Richie Escalante and Jake Lewis would be an understatement.
After showcasing promising speed in qualifying, Superbike rookie Escalante suffered a big highside on the race's opening lap. A separate incident moments later brought out a red flag, but Escalante was unable to make the restart.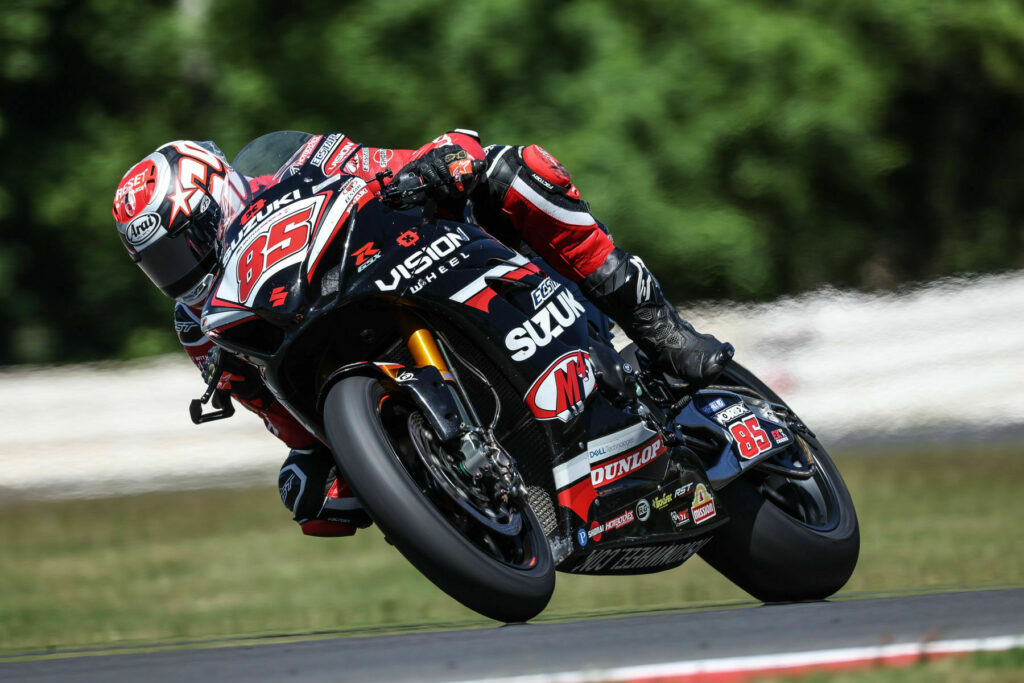 However, Lewis then suffered a hard fall of his own while running sixth shortly after the restart, bringing out another red flag. While Lewis didn't make the second complete start, Escalante did, starting from the back of the grid in the eight-lap sprint race.
The Mexican ace made the most of the valuable track time and charged his way forward throughout the remainder of the race. Escalante made one final pass just before the checkered flag to break into the top ten in tenth.
Escalante said, "I was disappointed to crash at the original start because I felt great on the bike today. I had a big moment in the rear and couldn't control the bike – it was my first highside on the Superbike. I'm okay, and big thanks to the team for repairing the bike. I was very happy to have another chance to get back out there and make the most possible points."
Team Hammer will be back in later today to conclude this weekend's racing at Ridge Motorsports Park.
ABOUT TEAM HAMMER
The 2022 season marks Team Hammer's 42nd consecutive year of operating as a professional road racing team. Racebikes built and fielded by Team Hammer have won 128 AMA Pro and MotoAmerica National races, have finished on AMA Pro and MotoAmerica National podiums 332 times, and have won 11 AMA Pro and MotoAmerica National Championships, as well as two FIM South American Championships (in Superbike and Supersport.) The team has also won 137 endurance races overall (including seven 24-hour races) and 13 Overall WERA National Endurance Championships with Suzuki motorcycles and holds the U.S. record for mileage covered in a 24-hour race. The team also competed in the televised 1990s Formula USA National Championship, famously running "Methanol Monster" GSX-R1100 Superbikes fueled by methanol, and won four F-USA Championships.
ABOUT VISION WHEEL
Founded in 1976, Vision Wheel is one of the nation's leading providers of custom wheels for cars and trucks, and one of the first manufacturers of custom wheels and tires for ATVs, UTVs, and golf carts. Vision Wheel looks beyond the current trends and to the future in developing, manufacturing, and distributing its wheels. Vision's lines of street, race, off-road, American Muscle, and Milanni wheels are distributed nationally and internationally through a trusted network of distributors. Vision Wheel also produces the Vision It AR app to allow users to see how their wheel of choice will look on their vehicle before purchase and installation. For more information on Vision Wheel, visit www.visionwheel.com.
ABOUT SUZUKI
Suzuki Motor USA, LLC. (SMO) distributes Motorcycles, ATVs, Scooters, Automotive Parts, Accessories, and ECSTAR Oils & Chemicals via an extensive dealer network throughout 49 states. Suzuki Motor Corporation (SMC), based in Hamamatsu, Japan, is a diversified worldwide manufacturer of Motorcycles, ATVs, Scooters, Automobiles, Outboard Motors, and related products. Founded in 1909 and incorporated in 1920, SMC has business relations with 201 countries/regions. For more information, visit www.suzuki.com.