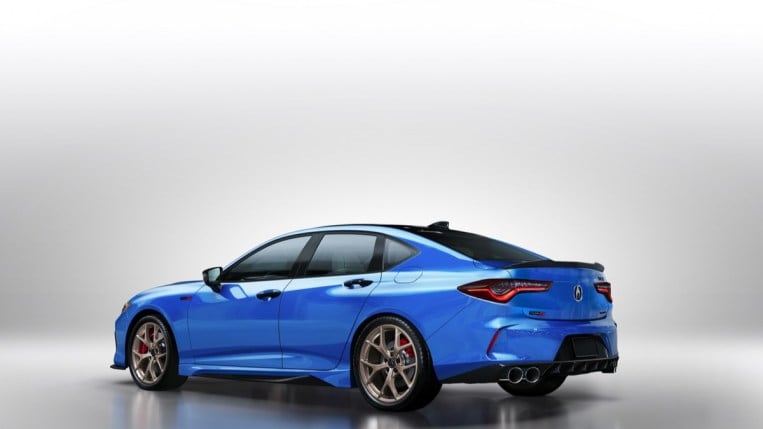 The Acura TLX is underrated.
It competes in the same league as the hyper-athletic BMW 5-Series, the sumptuous Lexus ES, and the stunningly well-balanced Mercedes-Benz E-Class. It currently sits at fifth in our list of Best Luxury Midsize Cars.
But the fifth-best car in a stable full of astoundingly good cars is a very good car. The TLX offers superb built quality, an all-wheel-drive system that makes it handle like a sports car even in wet weather, and a feature list that lacks nothing.
How can this thing win some attention?
With a special edition that borrows from a supercar.
NSX-Style Quality Control
For the 2023 Acura TLX Type S PMC edition, Acura rifled through the NSX's bag of tricks and stole a few.
The TLX Type S PMC Edition doesn't get any new mechanical parts. Instead, it gets a more careful inspection and testing regime to tune it before it gets to the dealership. Acura says this is "the same quality control process as NSX."
Acura hasn't named a price. The TLX Type S starts at $53,700, plus a $1,095 destination and handling fee. We can confidently say the extra work put into the PMC Edition will make it pricier, but we can't even speculate how much.
PMC stands for Performance Manufacturing Center. It's a tuning shop where Acura works on its most high-performance models.
They'll inspect each Type S PMC edition after it's built and before it gets to the customer. They give it a dynamometer test to ensure the 355-horsepower turbocharged V6, 10-speed automatic transmission, and super-handling all-wheel-drive system are working together perfectly. They simulate driving on rough and wet roads and re-tune as necessary.
The PMC Edition comes in Curva Red, 130R White, or Long Beach Blue, all with contrasting black roofs. It rides on Copper 20-inch lightweight wheels. A carbon fiber lip spoiler and rear diffuser help with aerodynamics.
Inside, carbon fiber trim and an exclusive flat-bottom steering wheel set it apart. Interior lighting matches the exterior color. Each gets an exclusive upholstery palette – orchid leather for Long Beach Blue, red leather for 103R White, and black with red stitching for Curva Red.